CHANDELIER GINKO BESPOKE / 420
Gingko B / 420 is an impressive bespoke installation, composed of 420 handcrafted porcelain leaves. The interplay between ceramic and light has the power to create a sense of wellbeing and warm atmosphere. The light sculpture goes much further than its functional purpose of lighting a space. By illuminating itself, it defines its own shape and presence, becoming a mesmerizing artwork. Like a living plant, it has a natural, dynamic energy that both calms and revitalizes us. The design of the installations is going hand in hand with the architectural space and with the ideas of the architects and interior designers.
Materials
Handmade translucent porcelain leaves,
handcrafted stainless-steel frame, borosilicate glass diffusers.
Light source
Socket E 14, max. 6 W. Compatible with LED string bulbs.
The light source is replaceable by the user.
30 LED E14 x 6 W (max)
Technical data
For 230 volts. Also available for 120 volts on E12 sockets.
Dimensions
156 cm Length x 114 cm Height (adjustable) x 142 cm Width
Weight
Approximately 45 kg
Colors
Metal-framework with Nickel or Gold finish.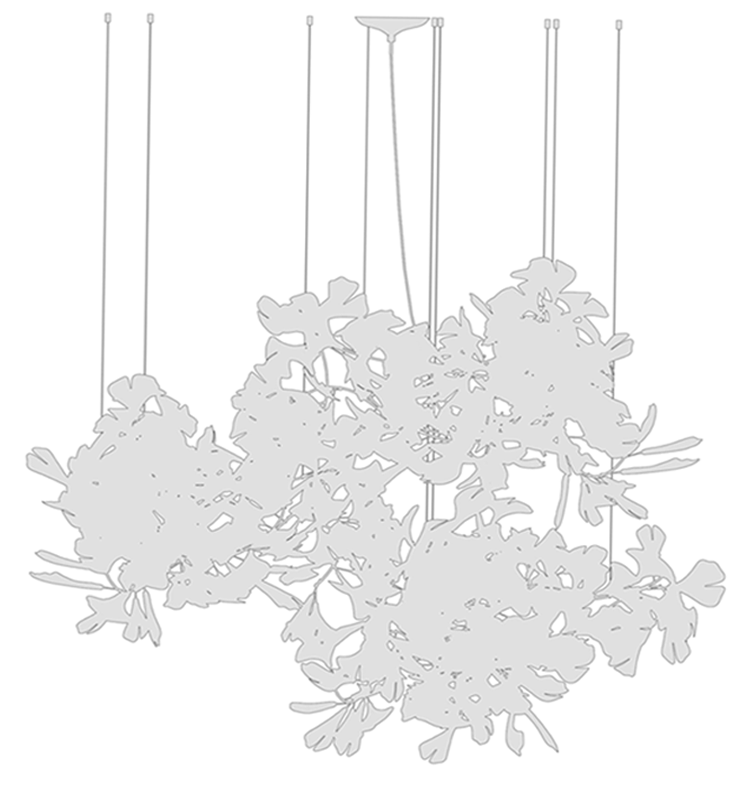 More info
The installations on show are just a few examples of the possibilities and scope of Andrea's work. Porcelain structures are beautifully adaptive, able to illuminate and breathe life into a space in a fluid, three-dimensial way that goes far beyond the boundaries of organic design. Bespoke installations are completely unique, specifically tailored to work harmoniously with the architecture of the space.